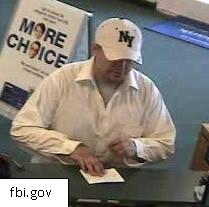 On October 17, 2012, the San Diego FBI and local law enforcement asked the public for help in identifying and catching a serial bank robber known as the "Chubby Bandit." Any information is helpful.

The suspect is believed to have robbed four banks between October 9 and October 16. The "Chubby Bandit" uses a note to demand money from the tellers, and he used verbal commands in some of the robberies as well. He threatened to have a gun in one of the robberies, but the gun was not captured by surveillance cameras.

The "Chubby Bandit" is believed to have committed the following robberies.

The first robbery occurred on October 9, 2012 at the U.S. Bank on 12655 Scripps Poway Parkway in Poway, California at about 5:32 p.m.

The second robbery occurred on October 11, 2012 at Chase Bank on 7176 Avenida Encinas in Solana Beach, California around 1:03 p.m.

The third robbery occurred on October 13, 2012 at Chase Bank on 607 Lomas Santa Fe in Solana Beach, California at approximately 1:30 p.m.

The fourth robbery occurred on October 15, 2012 at Wells Fargo Bank on 276 North El Camino Real in Encinitas, California around 2:47 p.m.

The last robbery occurred on October 16, 2012 at the U.S. Bank on 770 Village Drive in Carlsbad, California at approximately 2:23 p.m.
Witnesses and surveillance have described the suspect as a white male between 25 and 35 years old. He is between 5'6" and 5'9" tall and weighs between 180 and 200 pounds. He has worn three different hats during the robberies, and they all had an "NY" logo on the front.

If you have any information about the robberies or the suspect, you need to call the FBI immediately at the following telephone number: (858) 565-1255. Your name will remain anonymous if you choose.

Source: Federal Bureau of Investigation
Comments
comments