Florida Man Arrested for Smuggling Dinosaur Fossils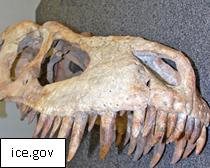 On October 17, 2012, Immigration and Customs Enforcement announced that Eric Prokopi of Gainesville, Florida, was arrested for illegally importing multiple dinosaur fossils into the United States. He was arrested by ICE Homeland Security Investigations (HSI) agents.

The complaint against Prokopi states he conspired to import at Tyrannosaurus bataar skeleton from Mongolia, a Saurolophus angustirostris skeleton from Mongolia, and a Microraptor skeleton from China. Prokopi is charged with one count of conspiring to smuggle illegal goods, one count of possessing stolen property, and one count of making false statements. He faces a maximum sentence of 35 years in prison.

According to court documents, Prokopi owns a business in Florida called "Everything Earth," and he describes himself as a commercial paleontologist. He trades partial skeletons, but he unlawfully transported fossils from foreign countries from 2010 to 2012. The fossils from Mongolia are the only ones of their kind, and they lawfully belong to the Mongolian government.

The Tyrannosaurus bataar fossil is about 70 million years old, and Prokopi misrepresented the contents of the package when he imported it into the United States. The skeleton was later sold at an auction in New York City for over $1 million.

Prokopi sold three other fossils from Mongolia as well. He sold a Saurolophus angustirostris fossil to the I.M. Chait gallery in California, and he also sold two fossils of a Gallimimus and Oviraptor mongoliensis. He imported fossils of a small flying dinosaur called a Microraptor from China.

Manhattan U.S. Attorney Preet Bharara stated, "As alleged, our recent seizure of the Tyrannosaurus bataar skeleton from Eric Prokopi was merely the tip of the iceberg—our investigation uncovered a one-man black market in prehistoric fossils. In addition to our commitment to ensuring that these relics are returned to their countries of origin, we are equally committed to shutting down Prokopis illegal business and holding him to account for his alleged crimes."

Source: U.S. Immigration and Customs Enforcement
Comments
comments