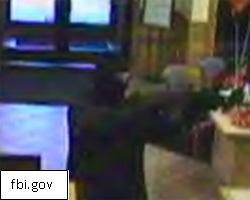 On November 8, 2012, the FBI announced that a male adult suspect who robbed an Idaho credit under the day before appears to be the "AK-47 Bandit." The suspect has robbed banks in parts of California and Washington, and it appears his crime spree has spread into Idaho.

The recent robbery occurred at the East Idaho Credit Union in Rexburg on November 7. The suspect was wearing a mask and yielding an assault rifle as he ordered employees and customers into the bank's vault. Nobody was injured during the robbery, but the suspect made off with a large amount of cash.

The suspect is believed to have robbed banks on February 29, March 12, and July 6, 2012 as well. The first robbery on February 29 occurred at the California Bank & Trust in Chino, California. A police officer was shot and seriously injured by the assault rifle during the robbery.

The second robbery occurred on March 12 at the Bank of the West on the 1000 block of Helen Power Drive in Vacaville, California. The third robbery occurred at the Chase Bank on Mt. Si Boulevard in North Bend, Washington. The suspect may have been involved with a robbery at the Tri Counties Bank on the 1700 block of Challenge Way located in Sacramento, California on March 9th as well.

The FBI is offering up to $50,000 for information that leads to the suspect's arrest, and the East Idaho Credit Union is offering up to $20,000 for information that leads to the arrest of the suspect who robbed the bank on November 7. You can contact the FBI Salt Lake City Division at (801) 579-1400.

The suspect is considered armed and extremely dangerous.

Source: Federal Bureau of Investigation
Comments
comments