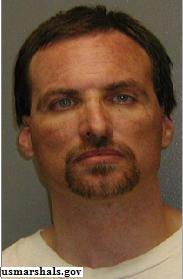 On September 12, 2012, the US Marshals Service added Clyde Hall Jr., a convicted child predator, to the 15 Most Wanted fugitive list.
According to his record, he has a violent criminal history back to 1985 for convictions of assault and numerous sex offenses. According to the Agency, Hall "is clinically diagnosed was a sociopathic psychosexual career sex offender and the State of New York has labeled him a Tier III sex offender." Tier III is the most dangerous.
Hall was to report to a halfway house in New York following a 25-month sentence at the Butner Federal Correctional Institute in North Carolina for violating the Adam Walsh Child Protection and Safety Act. He failed to report to the meeting and is now wanted for violating his federal supervised release.
The Agency is warning that Hall is mainly attracted to adolescent girls; however, he has "secondary interests" in young boys. Hall admitted to authorities to sexually abusing two 10-year-old girls and raping two adult women during his 20s.
David L. McNutty, a U.S. Marshal in the Northern District of New York stated, "Hall is a career sex offender who committed countless violent acts against innocent women and child. His capture deserves our full investigative attention and we will work with our federal, state, and local partners to ensure justice is serviced against this violent sexual predator."
The agency is offering a $25,000 reward for any information that leads to Hall's arrest. You can call the U.S. Marshals Service Communications Center at 1-800-336-0102.
Clyde Hall may go by the following aliases: Malcome Hall, Malcomb Hall, Clyde Jr. Hall, Malcome-Jr. Hall, Clyde M-Jr. Hall, Clyde M Hall, Clyde M Jr. Hall, CJ Hall, Malcomb-Jr. Hall, or Clyde Malcomb Hall.
Description:
· Male
· White
· Born June 29, 1965 in California
· 5'8" tall and 175 pounds
· Blue eyes, brown hair
· Black Cat II tattoo on upper left arm
· Light brown skintone
Source: U.S. Marshals Service
Comments
comments