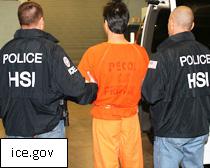 On November 28, 2012, Homeland Security Investigations (HSI) under Immigration and Customers Enforcement (ICE) announced that a man was arrested for threatening to kill police officers and members of their families. He was arrested around 1:30 a.m. on Tuesday, November 27, outside of a Pecos truck stop.

The man's name is Jacob Ramos Esparza, and ICE reports he is officially charged with "unlawfully, knowingly and intentionally using interstate communications to threaten to injure a person." He faces up to 20 years in federal prison if convicted.

According to court documents, Esparza posted several death threats on the internet in chat forums. The threats specifically targeted Fort Stockton (Texas) Police Officers and their families, but officers at police departments in Pecos, Big Spring, and Midland were targeted as well. Some of the threats were sent through email. Some of the emails contained videos showing graphic violence, and specific threats included using chemical weapons, car bombs, and other weapons.

Dennis A Ulrich, special agent in charge of HSI in El Paso, stated: "HSI takes seriously all threats against law enforcement officers. Our special agents in west Texas worked cooperatively and vigorously with our local, state and federal law enforcement partners. This arrest exemplifies the efficiency and force-multiplying effect of law enforcement agencies working together."

HSI special agents believe Esparza posted some of the threats under the username "El Diablo." One of the statements by the username offered an award for the head of a local police officer. Other threats included using 15 pipe bombs in Pecos, Midland, and Odessa, and one of threats warned of "carnage unimaginable" on December 25 in public places.

The FBI, Fort Stockton Police Department, Pecos Police Department, Midland Police Department, and the Ector and Midland County Sheriff's Offices helped with the investigation.

Source: Immigration and Customs Enforcement
Comments
comments