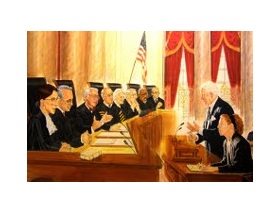 New York, NY—Representing clients charged with violating criminal statutes and other First Amendment related laws is what Herald Price Fahringer and Erica Dubno do best.
"Many of our cases involve theaters, bookstores, publishers, and a whole variety of activities that come within the scope of the First Amendment's protections," Fahringer told laws.com in a recent joint interview with himself and Dubno. "My partner and I feel very fortunate to be able to practice in this area of criminal law, because it involves a great deal of personal satisfaction." They also have considerable experience handling all types of criminal and civil appeals.
(More on News at LAWS.com, Contact Alberto for interviews "support@laws.com")
With a combined 68 years of experience in the law — him with 50, her with 18 — the duo has become known for being excellent litigators, with Fahringer defending clients like Larry Flynt and Al Goldstein. "Ms. Dubno is extremely intelligent, especially in the areas of research and litigation," Fahringer explains. "She and I have an advantage over an individual attorney, because our personalities and skills mesh so well and we each know how to work together on a case to coordinate our efforts for the best possible defense."
Cases today look different than when either Fahringer or Dubno graduated from law school. "Today, we live in a 'Law and Order' culture, where everyone thinks that every case should be like an episode on a TV show," Dubno says. "This usually leads jurors to be confused and disappointed."
Fahringer says that one of the biggest changes to the judicial system has come from the plea agreement. "When I came out of law school, you took every case to trial — plea deals weren't as available. Now, about 95 percent of all cases are disposed of by a plea. Undoubtedly, being able to work out a good plea agreement has become very important in our practice."
Deciding whether to take a case to trial today involves complex decision-making. Fahringer says that "if the defendant has a viable defense, we will take the case to trial," He notes there are other problems that can come from taking a plea deal or going to trial. "Today, more than ever, we have to examine the collateral consequences of a conviction," such as weighing the problem of the client having to register as a sex offender.
Dubno says that some cases are better off at trial than others. For example, "when you have a defendant who may be able to testify and take the stand, and if his story is very compelling." Moreover, "if a defendant has an issue with his immigration status, the plea deal might mean deportation."
New attorneys should do as much trial work as they possibly can, according to Fahringer. "To become a good trial attorney, you have to get into the courtroom, just like a boxer has to get into the ring. You can't become a good boxer by reading books. At the end of the day, you need to get into the ring to learn how to fight."
Fahringer, who boxed for Penn State University and the U.S. Army, is known as a First Amendment Champion. He has handled over 15 cases in the Supreme Court of the United States. In addition, he has tried cases in over 27 states and has briefed and/or argued more than 300 appeals.
Both Fahringer and Dubno have been recognized for excellence in legal writing, as well as the practice of criminal law, and their contributions to the law. In 1995, Fahringer was honored with the Thurgood Marshall Award from the New York State Association of Criminal Defense Lawyers for outstanding contribution to the criminal law.
Today, Fahringer & Dubno provide clients throughout the United States with first rate, high-quality representation. To learn more about their practice visit www.fahringerlaw.com