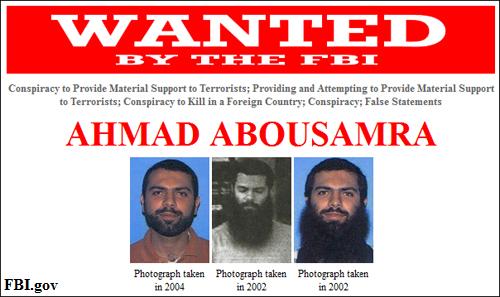 On October 3, 2012, the FBI's Boston Field Office asked for assistance from the public in locating a wanted terrorist by the name of Ahmad Abousamra. He is a U.S. citizen and lived in Mansfield, Massachusetts until he left the United States in 2006. The FBI reports that he may be living in Aleppo, Syria with his wife, a daughter, and other family members.
Abousamra was indicted in 2009 after he took several trips to Pakistan and Yemen. It is believed he tried to obtain military training in order to kill American soldiers in combat overseas. He was also indicted for traveling to Iraq with intentions to join the rebel forces and fight against the United States.
On November 5, 2009, a federal arrest warrant was issued for Abousamra for "conspiracy to provide material support to terrorists, providing materials support to terrorists, conspiracy to kill in a foreign country, conspiracy, false statements, and aiding and abetting." He and another co-conspirator were also charged in a superseding indictment for providing information to a terrorist organization, specifically Al Qaeda.
Abousamra may also use the following aliases: Ahmad Abou-Samra, Ahmad Abou, Ahmad Abou Samira, Ahmad Samra, Ahmad Abu Samra, and Ahmad Abou Samra. He was born in France on September 19, 2981, and he is 31 years of age. He is about 5'11" tall and about 170 pounds. He had dark brown hair at the time of his disappearance, and he has brown eyes. He can speak English and Arabic fluently, and he has a college degree in computer technology.
The announcement today is part of a traditional media campaign and a social media campaign to alert the public about Abousamra.
Special Agent in Charge Richard DesLauriers states, "Our goal is to find and arrest Abousamra so he can be tried by a jury of his peers. We believe publicizing Abousamra's photo and characteristics will lead to a tip about this whereabouts and, ultimately, to his arrest."
Source: Federal Bureau of Investigation
Comments
comments