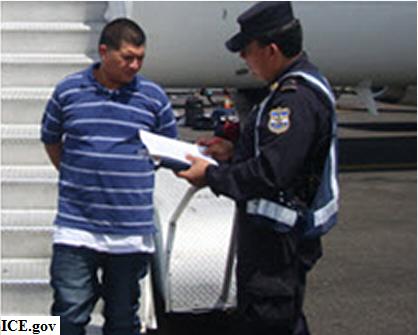 On October 2, 2012, the Enforcement and Removal Operations (ERO) under the Immigration and Custom's Enforcement announced that a Salvadorian man was deported to his home country because he is wanted for murder, organized crime, and extortion. The man's name is Walter Fernando Alfaro-Pineda.
Officers under the Criminal Alien Program met with Alfaro-Pineda at Lee County Jail in Texas after officers retrieved an Interpol fugitive warrant after his arrest on June 18. He was then released into custody of the ERO and sentenced by an immigration judge on September 5, 2012.
The Salvadorian fugitive was removed by the country on a charter flight by the ERO's Air Operations Unit (IAO). The ERO reports that 500 foreign fugitives have been removed from the United States since October 1, 2009. The fugitives have been accused of serious crimes like rape, kidnapping, major drug offences, murder, and more.
David W. Jennings, a field office director at ERO Houston, stated, "This removal is the positive result of ICE's thorough screening of jails and prisons throughout the nation. This case is representative of the hard work and service by ERO and our law enforcement partners to ensure public safety."
The Criminal Alien Program under the ERO attempts to identify fugitive aliens that are located in jails and prisons in the United States. Targeting is mainly accomplished by conducting interviews and reviewing an inmate's biographical information within their record. Some of the criminal may stay in U.S. jails to finish their sentencing in this country before being deported and tried in their own country.
The ERO decides to hold the criminals or immediately deport the criminals based on their level of risk and the severity of the crimes in the home country.
Source: U.S. Immigration and Custom's Enforcement
Comments
comments