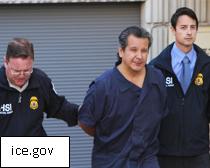 On November 2, 2012, Immigration and Customs Enforcement's (ICE) Homeland Security Investigations (HSI) arrested Marco Antonio Delgado for helping a drug cartel with money laundering. ICE reports that Delgado was arrested at an El Paso restaurant on charges of conspiracy to commit money laundering.

According to the indictment, Delgado conspired with drug cartel members and others between July 2007 and December 2008 to launder money from drugs proceeds, and the proceeds are enormous.

ICE reports that Delgado may have helped the drug cartel launder over $600 million from drug proceeds. The drug cartel is located in Guadalajara.

Delgado made his initial appearance in court on November 5, and he is scheduled for his detention hearing today, on November 8. He faces up to 20 years in prison for the conspiracy charge.

Dennis A. Ulrich, special agent in charge at HSI El Paso, stated: "Drug cartels operate solely on the basis of greed. However, when they can also corrupt trusted authorities, the integrity and stability of both countries' financial infrastructure may be at risk."

El Paso's HSI financial group, the HSI Southwest Border Financial Operations, and the Currency United Strike Force (FOCUS) led the investigation. FOCUS was formed to discover financial crimes occurring in New Mexico and Texas.

FOCUS is made up of HSI, IRS, DEA, and Texas Alcohol and Beverage Commission members who work alongside the U.S. Attorney's Office, ICE's Office of the Principal Legal Advisor, and the Secret Service. Select members of these agencies target the following crimes:

• money laundering
• bank fraud and mortgage fraud
• illegal money transactions
• cash smuggling

Source: U.S. Immigration and Customs Enforcement
Comments
comments