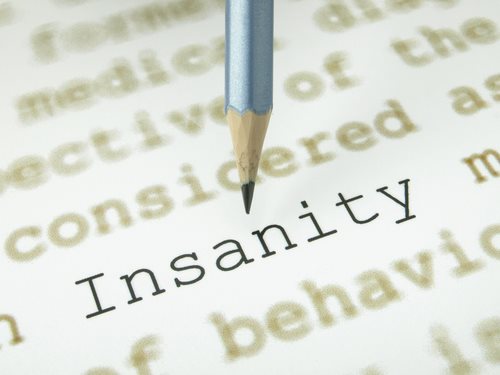 Greek and Roman law allowed for a defense based upon an insanity of the defendant which constituted a diminished capacity to distinguish right from wrong. Insanity makes its first appearance in English common law in 1724, although the rights of the insane in English criminal law were not established until the passage of the M'Naghten Rule. However, some experts in criminal law at the time argued that the M'Naghten Rule had a serious shortcoming.
In 1984 the United States Congress passed a Bill which sought to abolish or severely limit the recognition of an insanity defense as a method to be cleared of charges under criminal law. The Insanity Defense Reform Act of 1984 required a defendant's insanity to be severe and the direct cause of his violation of criminal law. It also establishes that the burden of proving an insanity charge lies with the defense. Before this Act, the prosecution was required to prove a defendant's sanity beyond a reasonable doubt.
The Act also limited the role of expert psychiatric witnesses under the belief that a preponderance of evidence from psychiatric witnesses took the decision out of the hands of jurors. One benefit that was granted to defendants who had successfully employed a defense based on insanity was the implementation of more strict procedures to protect the rights of individuals while hospitalized. The Insanity Defense Reform Act also provided for general guidelines governing when a person would be released after being placed in a facility for mental treatment.
Comments
comments