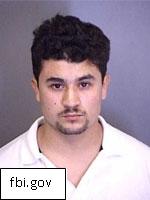 On November 7, 2012, the Federal Bureau of Investigation announced that it is seeking information on a fugitive name Francisco Molina-Neave. He is wanted for assault and using a weapon after the assault.

On July 5, 1997, the fugitive and his girlfriend went to a holiday party in the Denver Metro area. On their way home, Molina-Neave began to hit his girlfriend as she was driving and she stopped the car. She got out of the car, but Molina-Neave got out of the car and continued to beat her.

A witness eventually saw the beating and Molina-Neave fled. Molina-Neave was spotted a short distance away, but he fled down an alley after the police arrived. As a perimeter was forming, police heard two different gunshots. Witnesses later told police that Molina-Neave and another Hispanic man shot at their car before they ran away.

Molina-Neave was arrested on May 17, 2006 and faced extradition, which he refused. A Texas court let him post bond, but he never appeared in court and was arrested again in May of 2007. His bond was then set to $1 million. He posted bond again, but after his appeal was denied in October of 2007, he fled a second time. He is still considered a fugitive.

Francisco Molina-Neave used the following aliases: Francisco Juvera Molina-Neave, Francisco Molina, Francisco Javier Molina, Christian Morales-Santibanes, Francisco Neave, Christian Santibanez, and Francisco Morales. He was born in 1973 in Mexico, and he is Hispanic. He is about 5'7" and 160 to 170 pounds. He has brown hair and brown eyes.

Molina-Neave has three freckles or moles that appear in a crescent shape on his right cheek just below his right eye. If you have any information about the fugitive, you need to contact your local FBI office of the closest American Embassy or Consulate.

Francisco Molina-Neave is considered armed and dangerous.

Source: Federal Bureau of Investigation

Comments
comments